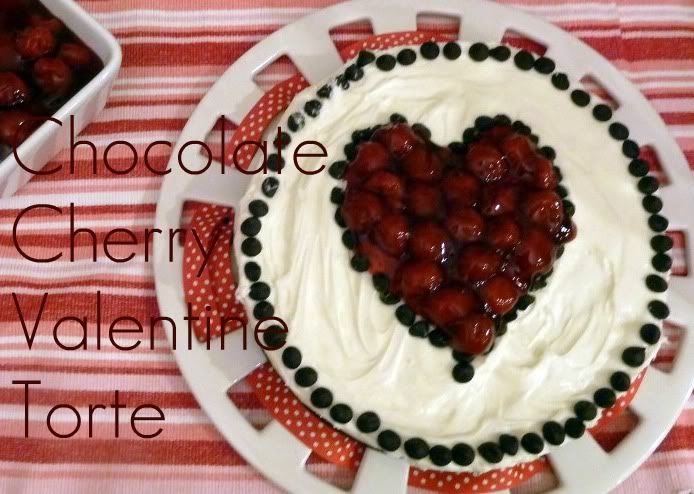 We have a traditional Valentines desert around here. We have had it every year since we were married 14 years ago! I love the chewy brownie bottom with the creamy top. I promise you will LOVE this!
Chocolate Cherry Valentine Torte
Source: and old deseret news recipe from many years ago
1/2 cup (1 stick) butter, melted
1 1/4 cups granulated sugar
1 tsp vanilla
2 eggs
2/3 cup flour
1/2 cup cocoa
1/4 tsp baking powder
1/4 tsp salt
1 pkg (8 oz) cream cheese, softened
1 cup powdered sugar
1/2 cup chilled whipping cream
1 can cherry pie filling
chocolate chips
Heat oven to 350. Grease bottom of a 9" springform pan.
Stir together melted butter, granulated sugar, and vanilla in large bowl. Add eggs and mix well. (Tip: Use a spoon, not a beater.) Stir together flour, cocoa, baking powder and salt in separate bowl. Gradually add to egg mixture. Mix well with spoon. Spread into prepared pan.
Bake 25 minutes. Cake will look fudgey and test not done. That is OK! Cool pan on wire rack.
Beat cream cheese and powdered sugar in medium bowl until well blended. In a separate bowl, beat cream until stiff. Gradually fold into cream cheese mixture. Spread over top of the torte. Refrigerate several hours or until set. With knife, loosen cake from sides of pan and remove the side of the springform pan.
Just before serving, put chocolate chips in a heart outline on cake. Fill in with cherry filling. Serve with extra cherry filling on the side. Refrigerate any left overs.
Linking at:
Lil Luna
,
Somewhat simple
,
House of Hepworths
,
Lolly Jane
,
Tater Tots and Jello
,
Every Creative Endeavor