Chore charts have never worked around here. And I have tried MANY! Recently, however, I came up with a system that actually WORKS! It has been running smoothly for over a month now, so I wanted to share it with you.
I have always been torn between paying my kids to do chores, and making them do them because they live here. I understand that they need money to learn how to save, budget, etc., but I also believe they need to do jobs simply because they are part of this family.
Enter my mixture of both.
I came up with 2 charts. The first chart is called our
Daily Chore Chart
.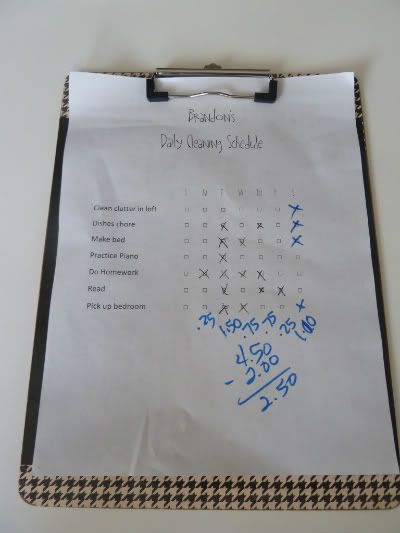 On this are simple little things that need to be done daily. Make bed, pick up room, practice piano, do homework. You get the idea. For each item checked on this chart,
my kids get 25 cents
.
The second chart is our
Weekly Chore Chart
.
This has large (and some not so large) projects that are mandatory. For each item
NOT
checked off on this list,
my kids lose 1 dollar
. I call it rent.
I let my kids circle which day they are going to do each chore on this chart. They have always hated doing everything on Saturday. Fine! Do it whenever you like.
At first, they didn't love this idea. 25 cents doesn't seem like a lot. That was until they discovered how much they could earn every week. Up to $9.00! Wow! For an 8 or 10 year old that is a LOT of money!
Before you cringe and think I am WAY overpaying my kids, the average around here is $5 for the 10 year old and $2.50 for the 8 year old. She has made it up to $9.00 one week. Once. I about croaked. But one week she got $1.25 and he got 25 cents. Ha!
Do I still have to harp on my kids? Yes, but in a less bossy way. It's more like, "Check your clip board!" And we still have the rule of no wii, tv or computer until everything is done.
Small Details:
*My kids are responsible for checking off these boxes on their own. If they forget, they don't get paid.
*I add up the totals on Sunday morning.
I have to make sure I have the cash to pay them.
If I want them to be responsible, I need to be responsible in paying them.
*After getting paid, we split into save, donate and spend.
*My 3-year-old has a joint chart with mommy. She doesn't get paid. :)
*As a big kick off, I gave my kids each a wooden clipboard from the dollar store, a stack of scrapbook paper and a bottle of mod-podge. Then I let them go at it. They loved it!
Linked up today at:
Tater Tots and Jell-o
,
Skip to my Lou
,
Lolly Jane
,
Home Stories AtoZ
,
Hope Studios
,
Todays Creative Blog
,
The Idea Room